Everything I need to know about Beauty...
I learned from Steel Magnolias. 
 Last week a good friend asked me if I would be willing to come and speak to a group of 14-16 year old girls about makeup! I immediately said yes - because in a world where I never got and often craved a little sister to impart of my worldly wisdom to, this is the closest Ill ever come!
After the dust settled and the excitement wore off,  I then realized that I would have to actually conjure up some sort of makeup tutorial and dispense actual advice on how to apply said makeup. And that's when I started to panic.
But then I remembered that thanks to Shelby, Truvy, M'Lyn, Claree, Annelle, and Ouiser - I was schooled properly in the ways of beauty starting from a very young age, which has guided me like a beacon of light through the turmoil that was the orange foundation and opalescent eye shadow of my youth!
So I figure tonight, we will start with the basic law that governs the universe we live in:
And the reason I know this is true, is because we live in a world where photoshop has all but turned the human face into an art form. Reality as we know it, is actually nothing but a few clicks of the mouse. Everyone we see in movies and magazines, on billboards, and literally every single place we look - has been airbrushed, tweaked, and streamlined into perfection. 
Case in point: this amazing Dove video: 
Once everyone has concluded that the "natural beauty"  that the world would have us believe is real - is indeed a complete and total farce, and that actual human people have flaws, and these are the things that actually make a person beautiful.....we will move on to proper nutrition and the taking care of our physical bodies: 
Its very important for skin health to stay properly nourished and hydrated. This is probably the single most important thing you can do in your beauty routine! So drink up! Drink the juice!
Next we will talk about the importance of matching your skin tone, and understanding how color can bring out the best in your features: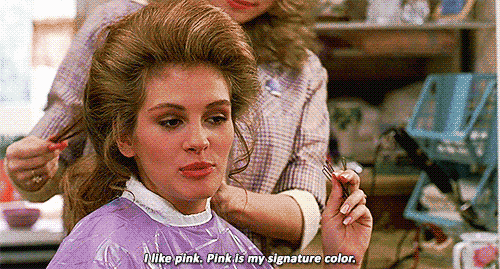 Shelbys signature colors may have been "blush" and "bashful" but MY signature colors happens to be diet coke and denim. To thine own self be true! 
As you embark on your journey of becoming the best version of yourself that you can be, its VITAL to consult with professionals who can help lead you in the right direction:
Seeking someone else's opinions on how to style yourself can really give you some much needed perspective! It can even give you new ideas and help you see yourself in a way you never might have imagined!
If you see someone making an error in makeup judgement, its important to be gentle in our criticisms:
 Nobody likes to be gossiped about, or made to feel a fool. So as women today in this crazy world I will reiterate the need to be kind, and to have each others backs when it comes to appearance .
Even if you have to dig deep - there is ALWAYS something nice you can say about someone:
And in that same vein, a good friend who is eager to see the good and beauty in you, is the best kind of friend to have! Surround yourself with people who are uplifting and bring out your confidence! 
This is one of my most favorite Dove videos of ALL TIME. Its ESSENTIAL to remember that people see us so much better than we see ourselves, and we need to BE KIND to ourselves and not be so critical of our appearance:
 There will be ups and downs in your life. Bad things will happen, things that are a result of your personal decisions and also things that are completely beyond your realm of control. However:
Its important to do your best and LOOK your best, so that you can cope with all life has to offer!
Fads change, what is in today will be out tomorrow. So have fun with trends and dont be scared to experiment with a variety of styles:
And last, but never least:
As my hero Audrey Hepburn used to say: "Happy girls are the prettiest girls". Makeup and beauty and everything we do to ourselves in an effort to look good, should always reflect the true beauty within and who we are as a person. 
Have a BEAUTIFUL day! xoxo Christy